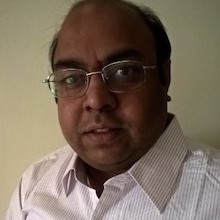 Ravikanth Pasumarthy
Vice President, Capgemini Engineering
Title: Approach and challenges in realization of NTN Solutions based on O-RAN architecture
Bio:
Ravikanth Pasumarthy is a Technology Leader and System architect with 24+ years of experience in developing Wireless&Satellite-based systems (4G/5G/NTN) and driving O-RAN related architecture and solution initiatives at Capgemini Engineering. Expertise involves Solution and System Engineering (for complete system including HW and SW) and System Architecture of complete satellite & wireless systems. 
His roles include successful conceptualization, architecture, design to delivery of wireless solution of various form-factors (macro to small-cell) for LTE/5G technologies, and realization of use-cases across verticals based on 5G solutions; defining the architecture, roadmap and building solutions related to the realization of 4G/5G RAN, Virtualized-RAN (vCU/vDU), application of AI/ML concepts in RAN and architecture of O-RAN based solution. He is passionate in helping customers in realizing the solutions and working with cross-functional teams. Active speaker speaking on 5G and related topics in various workshops/conferences in India.
Abstract:
5G based networks are being built using the traditional approach of closed network nodes. However, to realize the full potential of 5G technology across industries and use-cases, the networks need to be realized as Open and Disaggregated networks. The main purpose of the Open RAN architecture is to disaggregate the software (SW) from underlying hardware (HW) infrastructure, enable open, standards-based interfaces that ensure plug-and-play interoperability in a multi-vendor network. Another key aspect of the approach is to help bring in programmable and virtualized networks for the service providers, to bring in applications (in the form of xApps/rApps) for the benefit of the users and also the use of machine learning techniques to help in automation to the network optimization.
As part of 3GPP Rel-17 and beyond there is also evolution being planned for Satellite networks (NTN) based on 5G network architecture. Ubiquitous networks based on TN, NTN (and HAPS) is also aligned as one of the visions for 6G based Network architecture. The presentation captures the System solution and architecture considerations to be taken in developing NTN solutions aligned with O-RAN architecture. It shall also provide details of the challenges in realizing the same and guidelines to be considered in addressing the challenges. The presentation shall also cover some of the applications that should be considered for NTN considering the O-RAN based architecture.